ASLOK XXX - 2015 RECAP

Thanks to all ASLOK XXX attendees...

Grofaz
First Place:
Second Place:
Third Place:
Fourth Place:
Fifth Place:
Sixth Place:

USA vs World Cup
Overall:
World ?? to US ??
World MVP:
US MVP:
Wednesday "Mark Nixon" Minis
Theme
Winner
Godzilla King of the Monsters:
Godzilla King of the Monsters #2:
Blazing Saddles:
Blood on the Plow:
Rumble in the Jungle:
AARP ASLers:
AARP ASLers #2:

Flame On! Sponsored by Zippo:
Thursday Theme Tourneys
Theme
Winner
Night:
Deluxe:
Deluxe #2:
Pacific:
Rumble in the Rubble:
Bocage Busting:
Enemy at Gates:
Street Smarts:
Wolverine!:

Friday "Mark Nixon" Minis
Theme
Winner
Best of the Best (Grofaz mini):
Rookie of the Year (Grofaz mini):
Schwerpunkt 14:
Take No Prisoners:
Industrial Revolution:
King of the Jungle:
Red Guards into the Fray:
Red Guards into the Fray #2:
Big Cat Diary:
Ruins of the Reich:

Saturday
Theme
Winner
Best New Artist:
Best New Artist #2:
The Emperor's Finest:
Rain on the Scarecrow:
Shell-Shocked:
Shell-Shocked #2:

Attack of the ANZACs:

Attack of the ANZACs #2:

Terraforming 101:

ASL Starter Kit:

Gor-Gor Heretical Variant SSRs
Another original Bil Sisler Artwork graces the front of the T while the back features the ASLOK XXIX recap plus the 2004 Sisler artwork which has been adapted for the front of the AP12 ASLOK XXX pack...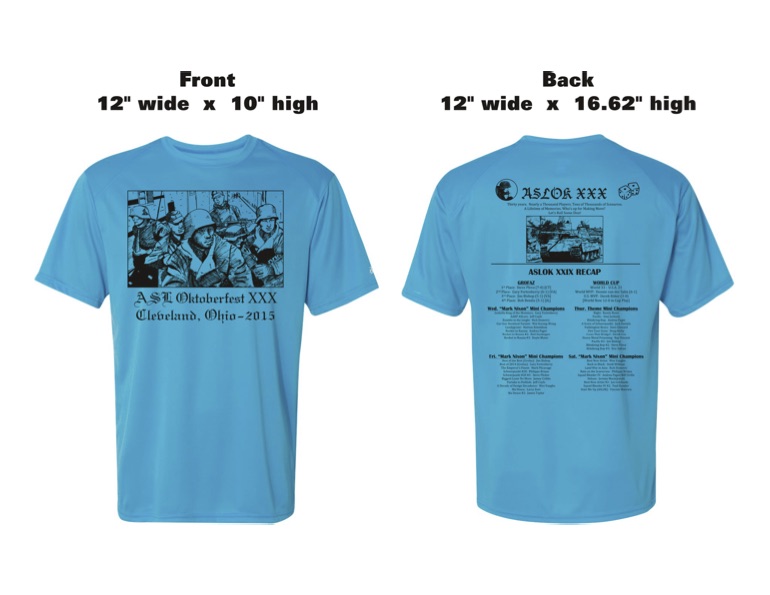 TD AAR
Stopped by the hotel on Saturday to drop off copious amounts of stuff - mostly that which was shipped to me by various sellers. Largest crowd I've ever seen for an opening Saturday - I'd estimate ~35 in and I'm sure I missed a few out eating etc. Lots of scenarios being played - saw a good number from the brand new AP12 plus some STL Burma throw-downs. There was a contingent watching World Cup Rugby via streaming on one of the TVs as the Aussies downed the UK. Pretty sure that was another ASLOK first.

Great early turnout and I'd expect we'll be in the 60s attendance wise by the time of the ASLOK picnic tonight. The weather has turned in Cleveland so bundle up if attending the picnic...

Official attendance has hit 173 as we had 3 walk-ups plus a few other late planners...

173 already matches the 3rd highest attendance ever & is the top mark since '99's peak of 183 - a mark we might hit with a few more walk-ups. There's still time to be a part of history & Cleveland is only a short drive away...
---
Quick Sunday Update - Dave Ginnard threw another great ASL gathering with his picnic on Sunday. The weather was marvelous - Dave was certain it was Fish watching out for us this year as the weather yesterday was dreadful, but things warmed up nicely today with no rain. I never tried to get a count on the picnic attendees but it was likely around 50 I'd guess. As usual the eats were excellent and all had a good time.

Official attendance has hit 176 as we picked up 3 more today making it the second highest ever and we're rapidly closing in on that record from '99. I'd put the through the door numbers around 75'ish already. I could name 62 that I remember seeing and recognized - add in a few new faces I didn't recognize plus a few I missed and we're in that 70-75 range which is well ahead of a normal Sunday pace.
Monday Update:
Monday update - an amazing 90 thru the door already. Official attendance is at 181 already, just shy of the all-time record and it's only Monday.

US held a brief lead in the World Cup as Ray Woloszyn gave the Americans a 1-0 lead on Friday. Unfortunately the Americans didn't retreat from the battle field and were down 7-3 IIRC on Saturday. The World was +9 at 17-8 as battle started this morning, but the Americans were rallying late in the day to cut into the lead and I think had narrowed it to +6. Paul Sidhu, JR Tracy & Bob Bendis were rallying the US forces to provide some hope...

The Pocket rulebook has been a huge hit - of the 60 MMP sent, 57 have been sold (or reserved - think 51 are paid for and 6 reserved). Not bad for < 12 hours of sales time today...

Friendly Fire & AP12 have been seeing a lot of play early in the week.
---
The World was up 7 in the World Cup thru Monday's results, 32-25. The Americans have picked up a game today so far to narrow the spread to 6 at 37-31. The Amis need a run but are within shouting distance at least.

Paul Sidhu paces the US at +4 (5-1), Jim Bishop is +3 (3-0) & Brian Wiersma is +2 (3-1).

Philippe Briaux is leading the World at a gaudy 6-0 mark (+6) with fellow Frenchman George Tournemire close behind at 4-0 (+4) and Klas Malmstrom is also a perfect 3-0 (+3). Hennie van der Salm is the other contender so far for World MVP at +3 (5-2).

If we suddenly banned the French, the US would be in the lead. Hmmm...:hmmm: :ciao: :vsign:
Tuesday Update:
107 thru the door. Americans within 5 in the World Cup. Official attendance up to 181 which is within spitting distance of the all-time record of 183 from '99...

Oh & Pocket rulebooks sold out around 8AM this morning. 60 moved in < 24 hours. Unfortunately MMP is back-ordered and cannot send more. The suggestion is order from MMP which will restock in 1-2 weeks...

---
[Commenting on James Taylor & Toby Pilling's epic World Cup matchup of Blood on Hill 192]
Fortnights may be more apt. They are on day 2 now...I think it was the American strategy to minimize Toby's World Cup matches and it has worked like a charm to date. Well except for the other Americans winning of course...

Wednesday Update:
It appears the World has edged the US yet again 45-41. I'm waiting for any last minute results to come in prior to calling it. The Americans finished strong, but came up a touch short.

Philippe Briaux takes home the World MVP at a perfect 6-0. Other leading World players were George Tournemire (4-0), Hennie van der Salm (6-2), Klas Malmstrom (3-0) and Derek Ritter (4-1).

Paul Sidhu will garner the US MVP at 6-1 edging a late push by Bob Bendis (4-0). Jim Bishop was 3-0 and Brian Wiersma 3-1 as the only other US players better than +1.

12 minis kicked off this morning with 92 folks gunning, only 4 players shy of filling out all the brackets...

---
Wednesday "Mark Nixon" Mini Update
Godzilla King of the Monsters: David Goldman triumphs over Doug Sheppard to win the Godzilla mini.
Gor-Gor Heretical Variant Mini: Wes Vaughn triumphs over Neil Stanhagen.
Mother Russia: Richard King & John Stadick are in the finals to be played later in the week (or not).
Mother Russia #2: Jeremy Maciejewski runs his string of ASLOKs with a mini title to 3 with a win over Jack Daniels.
Mother Russia #3: Ken Mioduski downs Hank Wit in the final.
Mother Russia #4: Jeff Coyle & Toby Pilling have a date for the finals.
Stealth of the Ninja: Nelson Harris & Derek Cox have unresolved Katana business to determine the champ.
AARP ASLers: Ray Woloszyn, ASLOK I Grofaz, wins the first run of the old-timers topping David Perham.
Gunned Up in the Desert: Andy Beaton overcomes Dave Reenstra to become King of the Sand.
AARP ASLers #2: Paul "Babyface" Sidhu passed his ID check and bypassed Gordon Jupp for the win.
Stealth of the Ninja #2: Steve Tinsley is the first to get wood as he triumphs over Al Kirkpatrick.
Gor-Gor Heretical Variant #2: Bob "the Grofaz" Bendis downs Dave Derecinski for the win.
Thursday Update:
Thursday kicks off with 12 full minis - 96 avid ASLers gunning for cardboard glory. Attendance is up to 185 as Cliff Smith came in Wednesday night to push us to a record attendance...

[On what if there was a World Cup Tie?]
Each team nominating a Champion for one on one cardboard combat to settle it would be the only fair one to resolve a tie right? Seems only fair. The Americans hope for such an opportunity one day...

Or would a hockey style shootout be the way to go? We'll make something up as we go along I'm sure if it ever comes to that...


Thursday Minis:
Night: Randy Rossi takes home his 5th night title in 6 years by taking the Hills from Chuck Tewksbury's Russians in "The Katanas Come Out at Night"
Finally Finn: Matt Zajac triumphs over Ray Vincent in a double jeopardy Grofaz game. Matt knocked off Mr. HP Lars Thuring in the semis to advance
Tincans & Popguns: Andrea Pagni triumphs over John Stadick in a double jeopardy Grofaz mini this morning.
XXX: Steve Pleva wins the XXX wood award (won't the wife be impressed?) as his Germans overcome Rob Wirthlin's British in Lions in the Field.
Pacific: Stan Jackson triumphs over Derek Ritter for PTO supremacy.
Fight the Power: Toby Pilling beats Stephen Frum in Liberation Day to take the Partisan mini.
Wicked Sensitive Crew: JR vanMechlen beats Gordon Jupp in a double jeopardy Grofaz/Mini Final game.
Once Upon a Time in the Projects: Bill Stoppel takes down Keith Spurlock's Russians in Urban Guerrillas for the win. I witnessed the dramatic finish as Keith's 2:1 -2 CC came up short leading to a concession - the amusing part was that final CC battle was in the wrong building that had nothing to do with the VC, but it made for a dramatic finish nonetheless...
Tincans & Popguns #2: Jeff Wasserman finally stops the marauding Frenchmen Philippe Briaux in the final.
Tincans & Popguns #3: Neil Stanhagen knocks off Jim Aikens to be tops at popping off, or something like that...
Tincans & Popguns #4: Craig Houliston beats Kevin Killeen for the wood and a Grogaz win.
XXX #2: Mattias Ronnblom KOs Chris Chapman in a duel for mini glory and the final.
Saturday Update:
Grofaz Update - Early Saturday
At the moment we have 6 4-0's pursuing the Grofaz with potential spoilers matched up with a pair of them and a few other lurkers hoping to slide into the final standings mix...
Here's how they got there and who's still standing unblemished...


Best of the Best Grofaz Mini
:
Andrea Pagni's Russians beat John Stadick's Germans in AP82 Coriano to move to 3-0.
Matt Zajac downs Ray Vincent.
Craig Houliston overcomes Kevin Killeen.
James Taylor KOs Toby Pilling in J100 For a Few Rounds More to knock Toby from the undefeated. Taylor's Americans went hard after the big 2 level building and managed to take it - around T5 when I looked I thought Toby was in good shape, although he was expressing some skepticism at the time and proved to be right which I'm sure is small consolation.
Andrea Pagni's Russians overcame Matt Zajac's Germans in J1 Urban Guerrillas despite Matt having the balance (extra 658) to push The Italian Stallion to 4-0. Andrea won despite little help from his SAN 6 which thru T4 only managed to generate one partisan across the canal which was quickly slaughtered and pin another German.
Craig Houliston's British managed to avoid getting torched in SP95 Burn Gurkha Burn in a late night epic struggle for the hill which ended around 3AM.
Craig and Andrea are sitting down to AP62 Shouting Into the Storm now for the right to move to 5-0. Andrea has the Germans, a slight underdog according to Andrea, but they allow him to <Italian Accent>"Be Masters of My own Destiny" </Italian Accent>
Best of 2015 Grofaz Mini
:
Mattias Ronnblom downed Chris Chapman to move to 3-0 as Chris insisted on playing a Friendly Fire scenario, FrF78 No Glory in War, but Chris failed in his negotiations for balance as Mattias insisted it was obviously perfectly balanced already...
JR vanMechlen beat Gordon Jupp and then retired from the mini tagging in Michael Focht (1-0) to take his place. After ending Gordon's hopes & Grofaz dreams, apparently JRvM felt his Grofaz work was done for this year...
Doug Sheppard beat David Goldman in the rubber match of their ASLOK as they were already 1-1 as David had beaten him in the Godzilla final the day prior, but with Grofaz glory on the line, Doug found a way.
John McDiarmid knocked off Chuck Tewksbury to move to 3-0.
In Round 2 John McDiarmid overcame Michael Focht.
The Swedish Terminator Mattias Ronnblom continued his relentless Grofaz advance at Doug Sheppard's expense. Mattias had the Axis in AP117 Second City and set his Hungarians up way back to preserve force waiting for the potent German reinforcements to arrive. Mattias basically conceded 4 of the 5 VC blocks as well as the balance to Doug's Russians & then held tough for the 5th block.
Mattias Ronnblom & John McDiarmid are playing now for the right to move to 5-0. Mattias has the Russians in AP93 Best Think Again and seems to be out to an early lead.
Grofaz Open Play
:
Steve Pleva beat Rob Wirthlin to move to 3-0 as his attacking Germans rooted out Rob's British from the buildings in AP114 A Lion in the Field.
Wes Vaughn beat Randy Rossi to post a 3-0 mark.
Steve Pleva advanced to 4-0 by downing Dave Reenstra in AP117 Second City. Steve had the Russians and ground down Dave's axis forces and held off the reinforcing Panthers for the win.
Dave Dersinski are currently both 2-0 and locked in Melee in the Burning Wreck Room it's believed.
Bob Bendis (3-1) and Randy Rossi (2-1) are dueling for a spoiler in waiting role hoping to back into the Grofaz placement list if an opportunity arises.
Doug Sheppard (3-1) beat Wai-Kwong Wong (2-0) to move into prime spoiler position at 4-1.
Steve Pleva (4-0) has the Germans in Mook Point attacking Doug Sheppard's (4-1) deployed Americans hoping to hold out on the hills in AP116 Mook Point.
Wes Vaughn (4-0) is battling Chris Chapman (3-1) in FrF71 Pulling Out. Wes has the Germans on the attack.
---
Early Saturday Update:

186 is the official attendance (so far) which breaks the all-time attendance record by 3 (183 in 1999) a mark which I didn't think was really going to fall this year or perhaps ever. The magic of XXX brought out the crowds though...

Saturday sees 11 minis rolling, although 5 are slightly short-handed including our typical 1 round Starter Kit mini First Round/Final.


Friday Mini Update:
Best of the Best (Grofaz): Andrea Pagni snooglie-woofered Craig Houliston into submission to move to 5-0 in the Grofaz and another pair of woods as 5-0 assures him of a top 4 Grofaz finish.
Best of 2015 (Grofaz): Mattias Ronnblom beats John McDiarmid are looking to move to 5-0.
Bushido - Way of the Warrior: Hennie van der Salm triumphs over Keith Hill.
Wrongway's Ready or Revise?: Stephen Frum downs Philippe Briaux for the wood and a special pack of dice provided by Wrongway in the play test mini final.
Schwerpunkt Drinking Age #21: Derek Cox triumphs over Michael Koch in an all Euro final.
Like A Boss: Dave Deresinski wears down Jim Aikens for the plaque.
Biggest Loser No More: Rob Loper garners his first career wood as he ends the hopes and dreams of Derek Ritter. Tim Brieaddy had generously sent up a pair of Hero Mugs with Derek Ritter to provide as prizes & we decided to hand them out to the first time Wood winners - Rob Loper chose the Japanese mug as his prize.
Crazy Train: Derek Pulhamus beats Rich Fulcher in the final.
Schwerpunkt Drinking Age #21 - #2: Paul Sidhu overcame Rich Domovic in the final.
Bushido - Way of the Warrior #2: Rich Jenulis takes a PTO crown at the expense of Hank Wit.
Bushido - Way of the Warrior #3: Don Holland dominates Al Kirkpatrick for the win.
Schwerpunkt Drinking Age #21 #3: Bill Cirillo beats Montana Mountain Man Doug Kirby for the win...
Biggest Loser No More #2: Seamus Hoskins triumphs as Pittsburgh beats Cleveland yet again. Seamus received a Tim Brieaddy German Hero mug. Pete feels like as a hard core Cleveland sports fan it would have been wrong to ring in his first go round at the lifetime non-mini winners mini...
---
Grofaz Update - Late Saturday

Steve Pleva beat Doug Sheppard to become the first to advance to 5-0.

Andrea Pagni became the 2nd to 5-0 by defeating Craig Houliston in Shouting Into the Storm. Craig had a nice festung in the victory building, but Andrea drove several tanks into bypass and snooglie-woofered the infantry and then followed up with infantry of his own to pry the VC building away from the Russians.

Wes Vaughn overcame Chris Chapman to move to 5-0. Wes killed 6 of the 8 Russian tanks in Pulling Out and was poised to swarm the last 2 and look into moving guns out when Chris called it a day.

The final piece of the Grofaz puzzle came together with Mattias Ronnblom knocking out Canada's last hope in John McDiarmid.

Random TD machinations left the pairings with:
Steve "Gor-Gor" Pleva vs. Andrea "The Italian Stallion" Pagni
Wes "Rock Boy" Vaughn vs. Mattias "The Swedish Terminator" Ronnblom

Steve and Andrea had exhausted most of the new scenarios that looked interesting except for Konev Cross which Gor-Gor was anxious to play, but Andrea felt was potentially too big, especially since he had an early flight Sunday and potentially needed to get a final in prior. After starting to search for old classics, Andrea suggested Acts of Defiance & Steve agreed. Andrea drew the Russians, missed his radio contact to open & then drew red which allowed Steve's Germans to close fast and furiously with the Russian defenders leading to a Gor-Gor win...

Mattias and Wes are currently playing Goch Ya with Mattias having the Germans. Winner draws Gor-Gor in the morning and tries to prevent Steve from garnering his record 9th Grofaz title.


Saturday Minis:
Best New Artist: Ray Woloszyn defeats Michael Rodgers in the finals.
Thunder From Down Under: Andy Hershey triumphs over Hank Wit to take home the wood.
Jungle Love: Dave Reenstra overcomes Jeff Wasserman for Jungle glory.
Land of the Ice & Snow: David Perham becomes King of the North with a win over Wayne Boudreaux.
Squad Bleeder IV: Jonathan Kay wins an All Canadian battle of attrition over Kurt Berger.
Deluxe: Bill Stoppel triumphs in the battle of the big hexes over Pierce Mason.
Jungle Love #2: Rich Domovic downs Dusty Morris in the final.
Best New Artist #2: Neil Stanhagen beats Steve Flicker in a late night duel for the wood.
Best New Artist #3: Bill Cirillo wins another overnighter over Randy Glesing.
Best New Artist #4: Ed Beekman and Gordon Jupp are currently dueling for the final mini to be decided today...
Start Me Up: Ulrich Ritter becomes the youngest mini winner ever with a triumph over Mark Shryock.
Sunday Update:
Grofaz Update - Sunday Morning
Steve Pleva & Mattias Ronnblom are playing Hart Attack - think it's J166-Final which is an update of the old ASLUG scenario - radically different as it's now on 7a etc. Mattias has the Germans on the defense, although it seemed he wished he had the attacking British...
Andrea Pagni placed 3rd & Wes Vaughn placed 4th.
---
Grofaz Final Results
Congratulations to Steve Pleva for triumphing and taking home the ASLOK XXX Grofaz title. Steve's 9th. Mattias Ronnblom fought long and hard and had a chance at the end end of Hart Attack, but Steve "rallying" a UK tank which killed one of Mattias's tanks and broke a couple squads was the finishing blow...
Final Results for the Grofaz:
Steve Pleva (7-0)
Mattias Ronnblom (6-1)
Andrea Pagni (5-1)
Wes Vaughn (5-1)
Thanks to all 186 attendees who made this the biggest ASLOK ever...
Attendee AARs