ASLOK XXIV - 2009 RECAP

Thanks to all 144 ASLOK XXIV attendees...Impressive to see attendance up in a recession!


Grofaz
First Place:
Steve Pleva (7-0) [CT]

Second Place:
Gary Fortenberry (6-1) [VA]

Third Place:
J.R. Tracy (6-1) [NY]

Fourth Place:
Brian Wiersma (5-2) [NY]


USA vs World Cup
Overall:
World 39 to US 30
World MVP:
Philippe Briaux (7-3)

US MVP:
Stan Jackson (5-0)





Wednesday "Mark Nixon" Minis
Theme
Winner
Godzilla King of the Monsters:
Gary Fortenberry

Gor Gor Hereticall Variant Mini:
Bill Cirillo

From Russia with Love:
Mattias Ronnblom
From Russia with Love #2:
Rob Feinstein

From Russia with Love #3:
Bob Bendis

Welcome to the Jungle:

Lars Thuring

AARP ASLers:
Chuck Payne

Gunned Up in the Desert:
Doug Sheppard


Thursday Theme Tourneys
Theme
Winner
Night:
Randy Rossi

Deluxe:
Larry Zoet

Pacific:
Will Fleming

Australian Balance System:
Steve Pleva

Night #2:
Making of the Grofaz:
Bill Cirillo

Barbarossa & Beyond:
Mattias Ronnblom

Paper Tigers:
J.R. Tracy

Der Commissar's in Town:

Don Holland


Friday "Mark Nixon" Minis
Theme
Winner
Best of the Best (Grofaz mini):
Gary Fortenberry

Best of '09 (Grofaz mini):
Brian Wiersma

Rumble in the Jungle:
Stan Jackson

Schwerpunkt 15:
Neil Stanhagen

Schwerpunkt 15 #2:
Anthony Flanagan

Biggest Loser No More:
Hank Wit

Riding with the King:
Chris Garrett

Tortoise & the Hare:
Fred Schwarz

Back in the USSR:
Rich Domovic

The Decade of War (AP6):
Wai-Kwong Wong


Saturday
Theme
Winner
Best New Artist:
Hennie van der Salm

Best New Artist #2:
Bill Cirillo

Chariots of Fire:
Neil Stanhagen

Spitting Into the Wind:
Michael Rhodes

Slaughter at Ponyri Micro-CG:
Steve Tinsley & Russ Hall


King of the Jungle:

Mattias Ronnblom


Chinese Fire Drill:

George Tournemire


ASL Starter Kit:
TD AAR
Here's the TD recap as ASLOK was happening...
Saturday Update:
I'll use this thread for actual updates on ASLOK XXIV...

Stopped by the hotel around 4 today - counted at least 17 ASLers already in attendance with plenty of more poised to arrive shortly.

Likely the most exciting news is the COMMANDING World Cup lead the US has having sprinted out to a 1-0 margin as Wild Bill downed Lars Thuring in the Opener Friday night. Obviously this is our year!

Ray Woloszyn and Phillipe Briaux were close to finishing their World Cup game. Nigel Blair & Doug Sheppard were dueling and Mike Faulkner and Peter Struijf were just getting started on a scenario. Mike was already in the "Excuse Phase" - not sure that bodes well for that particular World Cup action. Dave Ginnard was facing off with Hennie van der Salm. Gary Fortenberry had his AP6 stuff on display - looked great.

Wild Bill & Stan Jackson were throwing down. Mark Pitcavage was playing someone I actually didn't recognize & there was even a Mike Daniels sighting. I'm sure I forgot a few, but it was a relatively impressive early turnout.

For those arriving by tomorrow evening, don't miss Dave Ginnard's ASLOK Picnic which will likely kick off around 6 tomorrow night at his place. He'll have info on how to find it on-site tomorrow.

I'll likely be back around 5 on Sunday...

Sunday Update:
Dave Ginnard's 3rd Annual Picnic was another rousing success. I believe attendance was at an all-time high - I counted at least 25 there at one point and that's likely a few low as Rich Domovic showed up later & rumor has it Bendis was in transit. Nice spread that Dave put on which was enjoyed by all.

I think the attendance count is already in the 35 to 40 range which is mighty impressive by Sunday night.

The World has regained the upper hand in the Cup competition (for now) with a narrow 10-8 lead as of 6PM Sunday. Klas & Robert's luggage mysteriously disappeared in transit from Sweden - if you see a host of Friendly Fire's up for sale on EBay cheap that means someone found 'em!


Monday Update:
Don't worry some Friendly Fires have arrived safely - it was only part of the shipment which was "liberated" by the luggage handlers...

47 are through the door already which is pretty impressive for Monday evening.

The World led 12-8 after Sunday, but the US rallied to win the first 5 games today to briefly take a commanding 13-12 lead. Alas the World has rallied to make it 18-14.

---
As of Monday morning the World holds a somewhat commanding 26-18 lead, and downed many of our best yesterday to take that lead. But hope springs eternal as the US forces attempt to rally today. Hopefully that 8 morale helps despite the DM status...


Tuesday Update:
The World has opened up the lead to 10, with a 36-26 spread currently.

There's a movement afoot for the US to re-join the World & the World Cup transition to something like Europe vs. the World. Although we're worried they'd insist on hosting & frankly there's no place like Cleveland in early October...

Official attendance numbers are already at 130...

Wednesday Update:
75 have walked thru the door already. 60 got up at 8AM sharp to play in minis this morn as we have 7 full minis and one extra added from the leftovers that'll be a 2 rounder with 4 playing...

Very high numbers for Wednesday morning...

---
Tradition Reigns Supreme at ASLOK:

WORLD 39 - US 30

For the Seventh straight year, the World has dominated the US forces with a 39-30 victory. The US led briefly 1-0 on Friday and for ~5 minutes Monday morning after winning the first 5 reported games of the day to go up 13-12, but it was all downhill from there on as the Swedish forces took control and rolled.

---
Stan Jackson takes the US MVP with an impressive 5-0 mark. Next year we may limit US entrants to "Guys Named Stan" to give the US a chance. Other contenders for the MVP on the US side Ken Mioduski at 3-0 and a trio of 2-0's in Eric Givler, Bob Bendis & Stephen Frum.

Philippe Briaux takes home the coveted World Cup MVP with a 7-3 mark to finish at +4 for the Cup. Lars Thuring (5-2), Klas Malmstrom (4-1) & George Tournemire (4-1) all finished at +3 to pace the World attack.


Wednesday "Mark Nixon" Mini Results
Godzilla King of the Monsters - Gary Fortenberry over Wes Vaughn in a grueling game of Sowchos 79
Gor-Gor Heretical Variant Mini - Bill Cirillo defeats George Tournesmire - thanks to the Pleva SSRs Bill was driving into buildings rather than VBM'ing to freeze guys and even freezing broken units to make sure they couldn't do the very special FPF...
From Russia With Love - Mattias Ronnblom knocks off Ray Woloszyn
From Russia w/Love #2 - Rob Feinstein triumphs over Chris Doary
From Russia w/Love #3 - Bob Bendis over Tim Kelly
Welcome to the Jungle - Lars Thuring defeats Klas Malmstrom in an all Swedish final
AARP ASLers - Chuck Payne KO's Jeff DeYoung
Gunned Up in the Desert - Doug Sheppard dusts off Jim Wiseman in the final
Thursday Update:
Thursday Theme Results
Night - Randy Rossi repeats as Night Champ in downing Lars Thuring. If Rossi manages to Threepeat next year we may have to give up on the idea that night is inherently dicey...
Night #2 - JR Van Mechlen (AKA the King of the Night Article Author) & Chuck Payne are set to battle for the plaque in the finals when they can find time to finish.
Deluxe - Larry Zoet overcomes Kemp Mason
Pacific - Will Fleming reigns supreme, or perhaps one should say Banzais Supreme, over Michael Koch as a last second miracle banzai over Open Ground to grasp victory for Japan. Guess the guy living in Japan should have an advantage over the German in a Jungle Duel...
Australian Balance System - James Taylor and Steve Pleva are still grinding it out to decide the Champ.
Making of the Grofaz - Bill Cirillo over George Tournemire in a redux of Wednesday's mini final - Bill also downed Bob Bendis enroute to the title making it his 2nd straight over the ever tough Bendis - one more and he has the right to join the "Grofaz Slayer" ranks.
Barbarossa & Beyond - Mattias Ronnblom takes home his 2nd mini plaque beating Nigel Blair in an all Euro final.
Paper Tigers - JR Tracy overcame Philippe Briaux's magical italian AT gun to eek out the victory, although it seemed that AT gun was the only breakable thing not broken late in the game.
Der Commisar's in Town - Don "the Big Noodle" Holland downs Derek Pulhamus to garner his first mini plaque in a Thursday mini no less...
Friday Update:
Grofaz Updates:



Best of '09 Grofaz Mini:



Don Holland defeats Nigel Blair
Will Fleming playing Eric Givler
Mattias Ronnblom playing Brian Wiersma
Bill Cirillo playing JR Van Mechlen
Best of the Best Grofaz Mini:
Gary Fortenberry downs Kemp Mason
Bob Bendis defeats Tommy Cvetinovich
Chuck Payne playing Wes Vaughn (Wes won)
George Tournemire playing John McDiarmid for International Supremacy
Open Grofaz Play:
JR Tracy dueling Ken Mioduski in Tesza Tease
Alan Saltzman battling Lars Thuring in SP174 Krupki Station
Rodney Callen & Russ Curry are throwing down in GD1
Steve Pleva & James Taylor are both 2-0 but dueling in Insult to Injury from the latest AP to settle the Thursday ABS Theme Tourney.
---
Evening Grofaz Status:
Brian Wiersma bumped off the "Swedish Terminator" Mattias Ronnblom as an IS2 buried a concealed squad in the VC building for the win to advance to 3-0 in the Grofaz.
John McDiarmid edged George Tournemire in a Few Rounds More.
JR Van Mechelen knocked off last year's runner up Bill Cirillo and is now dueling Will Fleming.
Will Fleming downed Eric Givler to advance to 3-0.
Brian Wiersma beat Don Holland to become the first 4-0.
Gary Fortenberry beat Kemp Mason in Silesian Interlude as Kemp's IS2 gacked it's first shot letting the Panthers prowl freely.
Bob Bendis beat Tom Cvetinovich and then Wes Vaughn to advance to 4-0. Wes advanced to 3-0 by downing Chuck Payne.
Gary Fortenberry is playing John McDiarmid currently in Acts of Defiance.
JR Tracy beat Russ Curry to advance to 4-0 and will face the winner of Lars Thuring and Guy Chaney (both 3-0).
Steve Pleva & James Taylor are throwing down again after their epic mini final put them behind schedule far enough that they were the only 3-0's left and the potential spoilers being contemplated weren't up to staying up that late.
Gary Fortenberry's Russians downed John McDiarmid's Germans in Acts of Defiance to advance into the Best of the Best Grofaz mini final where he'll meet Bob Bendis for a rematch of their Grofaz quarter final game of a year ago...

---

Guy Chaney advances to 4-0 after edging Lars Thuring (dashing the hopes of the last non-US citizen alive in the Grofaz although not the last of the World team) in SP178 Chiang's Finest.

Guy's Japanese hung on by the sashes of their kimonos as Lars' 9-2 led stack survived a 2MC, 1MC, 1MC sequence which resulted him in going heroic, but the -1 HOB modifier for being elite kept him from battle hardening to a 10-2. Which came back to haunt Lars as he failed the 1TC to overrun an IJA leader by a mere 1, which would have allowed him to advance off board for the win. Alas ambush was Sweden's final hope and despite having a stealthy 9-2 leader, Lars again missed the W by a single PIP...

Guy advances to face JR Tracy...

And on a later note, Tommy C has broken out "the secret weapon" which is a relatively large scale model of a Tiger tank which fires bee bees from it's main gun. The free keg may or may not have influenced the decision making process to reveal the Tiger tonight instead of saving it for the big Saturday night showdown...


---
Late Night Grofaz Status:
Pleva has the Brits on the Defense while James Taylor has the balance with the Germans in DB075 Shifting Bricks from the latest DB.
Will Fleming has the Germans attacking JRvM's Americans in SP176 Smiling Albert. They're a touch over half way through the battle to meet Brian Wiersma in the finals of the Best of '09 Grofaz Mini.
Guy Chaney & JR Tracy have settled on DB076 Out of the Shadows for their 4-0 match. Side negotiations are ongoing with a morning kickoff expected...
Friday Mini Results
Best of the Best (Grofaz) - Gary Fortenberry's Brits over Bob Bendis in The Sting of the Italian Hornet
Best of '09 Grofaz Mini - Brian Wiersma's Germans edge Will Fleming & his Russians in Encircle This!
Rumble in the Jungle - Stan Jackson defeats Nelson Harris
SP15 - Neil Stanhagen over Henny van der Salm
SP15 #2 - Anthony Flanagan downs Jim Aikens
Biggest Loser No More - Hank Wit edges Paul Chamberland
Riding With the King - Chris Garrett over Derek Spurlock who knocked out his own brother to advance.
Tortoise & the Hare - Fred Schwarz over Derek Pulhamus
Back in the USSR - Rich Domovic over David Perham.
The Decade of War (AP6) - Wai-Kwong Wong over Andrew Hershey
Saturday Update:
Grofaz Update:
Guy Chaney & JR Tracy audibled out of the DB scenario into one of Pete Shelling's new ones from SP - SP180 Encircle This! Guy has the Russians on the defense.
Will Fleming & Brian Wiersma are also playing SP180 with Will on the defense as the Russians.
Bob Bendis & Gary Fortenberry are playing FrF29 Sting of the Italian Hornet. Gary has the Brits on the attack.
Pleva & Taylor are still a game back w/John McDiarmid looking to play the winner as the spoiler.
Encircle This! is an interesting scenario where the Germans have to go about half a board width to capture and hold 2 factories with a mixed force of 3x838s, some 468's and 467s supplemented by a duo of Panthers, half track and 75 HT plus 2 squads & 8-0 on T2. In addition to controlling the factories the German has to also exit 10 points, 5 of which must be personnel off another half board width. The Russians get 2 T34s coming in on T3 which can either attempt to intercept the exit or join the battle for the factory. The Russian on board D is 8x628s with a 45LL, couple MMGs & LMGs and ATR. Interesting choices for the German as to whether to bum rush off the exit or battle for the factory & hope there's time late to exit.

The other neat feature is what could be the new trendy SSR - HIP rubble placement for the defense which isn't revealed until there's LOS which could change the German vehicle's best laid plans...

---
Steve Pleva has overcome "Sweet Baby" James Taylor again to advance to 4-0. "Gor-Gor" and John "the Spoiler" McDiarmid are in the scenario selection phase currently.

Steve Pleva has the Germans vs. John McDiarmid in SP180 Encircle This! 3 of the 4 undefeated Grofaz matches are now playing Wrongway's latest with the 4th being a mini where that wasn't a viable choice...

Brian Wiersma & Will Fleming are heading into the bottom of the 6th. Brian has already exited his points, but the Russians are stubbornly holed up in the board edge factory with a T34 in each board edge hex. The back one has burning wreck in VBM offering +5 TEM from fire outside the factory & a MOL attack blazed up another of the factory hexes to channel the Germans greatly.

A Panther and an imposing 9-2 stack do have a bead on the main Russian position but from a few hexes away...

JR & Guy are in the top of the 6th with the Germans having the factories secured, but needing to exit the 10 points, 5 of which need to be "personnel". Both halftracks were Recalled by SAN 1 attacks. JR appears to have the upper hand as a Panther seems a likely exit and the Russian is infantry poor...

Gor-Gor's Germans are rolling over John's Russians as they have both factories in the 4th along with a host of dead Russians. The Germans still need to exit, but John seemed confident in Steve's ability to execute.

Guy fell back from the factories allowing JR to secure them by turn 2 and was looking to contest the exit which is looking more and more difficult at the moment as he was poised for the last second Russian charge in an attempt to intercept the German infantry...

Gary & Bob are in the 4th in the Sting of the Italian Hornet. Fort has secured the front factory and it doesn't appear a ton of Italians are poised to contest the back factory...

---
After being the last to 4-0, Steve Pleva is the first to 5-0 as John "the Spoiler no More" McDiarmid conceded at the end of the 4th as Gor-Gor's exit was inevitable. Sounded ugly as the Germans rolled and the Russians panicked...

Brian Wiersma's Germans just edged Will Fleming's Russians in Encircle This! Will had a 228 in 1 factory hex, drove a T34 into another where it bogged & got blown up in prep in the top of the 7th, had the other factory in bog and then a 628 & leader in the back, but stuck in smoke so he couldn't overly contest the OG approach to the factory. Brian had a spare halftrack to VBM the factory & lock up the fire for a safe approach and Will managed a 12 on the PAATC allowing the HT to live.

It came down to CC where Will whiffed on a low odds shot and Brian manged the 8 for the win...

JR Tracy managed to just hang on vs. Guy Chaney as while JR captured the factories on turn 2, Guy's Jedi Mind trick worked in luring the Germans out of the factory allowing Guy to recapture it. JR exited his points and then had rush his entire OB back to the factory, survive a 12 down 2, which netted a 2MC, on his 9-2 and then break the Russian interlopers to just snare victory from the jaws of defeat...

Brian Wiersma & Steve Pleva are in the scenario selection phase while JR awaits the victor of the Bendis-Fortenberry showdown...

Gary Fortenberry KO'd Bob Bendis's Italians to advance to the Final 4 in the Grofaz. Tight game - Gary felt good on turn 2 until one of Bob's 47* guns went nuts on his Shermans and then it was a grind.


---
Grofaz Saturday Night:
JR Tracy & Gary Fortenberry are just kicking off in SP161 Federov's Incursion. JR has the attacking Germans.
Steve Pleva & Brian Wiersma are playing DB076 Out of the Shadows (the scenario Guy & JR audibled out of after pulling pieces). Steve has the Germans and looks to be grinding away on Turn 4. The US reinforcements are poised to enter, but Brian didn't seem confident in their ability to stem the German tide...
Sunday Update:
Grofaz Finals Set


Steve Pleva advanced to the finals around 11 last night as Brian Wiersma's US force losses exceeded the CVP cap.

In a barn burner which ended at 5AM this morning Gary Fortenberry manages to advance to the Grofaz finals just edging JR Tracy. Gary managed to withdraw from a 3:1 melee (3:1 flat given covering units) & JR used extremely poor tactics in not rolling low. With the unit freed from melee & JR's troops all stuck in melee, Gary was able to freely roam around to snag the needed buildings for the win.

---



Halfhearted Hiwis for the Consolation Game


Brian Wiersma & JR Tracy are setting up SP170 Halfhearted Hiwis in the "Grofaz Consolation Game" where the winner will place 3rd and the loser 4th...

Sides TBD...

The Fort-Pleva throwdown for Grofaz Supremacy is set to tip-off around 10AM with the ever exciting scenario selection phase...

JR has the defending Brits & his OBA just whacked a motion German tank on snakes...

Steve & Fort picked 3rd RTR in the Rain. Steve has the Germans...

---

11 or 12 games were going this morning at ASLOK. Pretty good for a wind down Sunday. Down to 7 going currently...


---

JR Tracy (6-1) places 3rd and Brian Wiersma (5-2) 4th as JR's Brits overcame the Hiwis on the attack. JR's defense was keyed off the OBA which cut a flank and carried the day...

Steve Pleva Threepeats as Grofaz Champ as his Germans wore down the Brit OB. Gary Fortenberry places 2nd...


---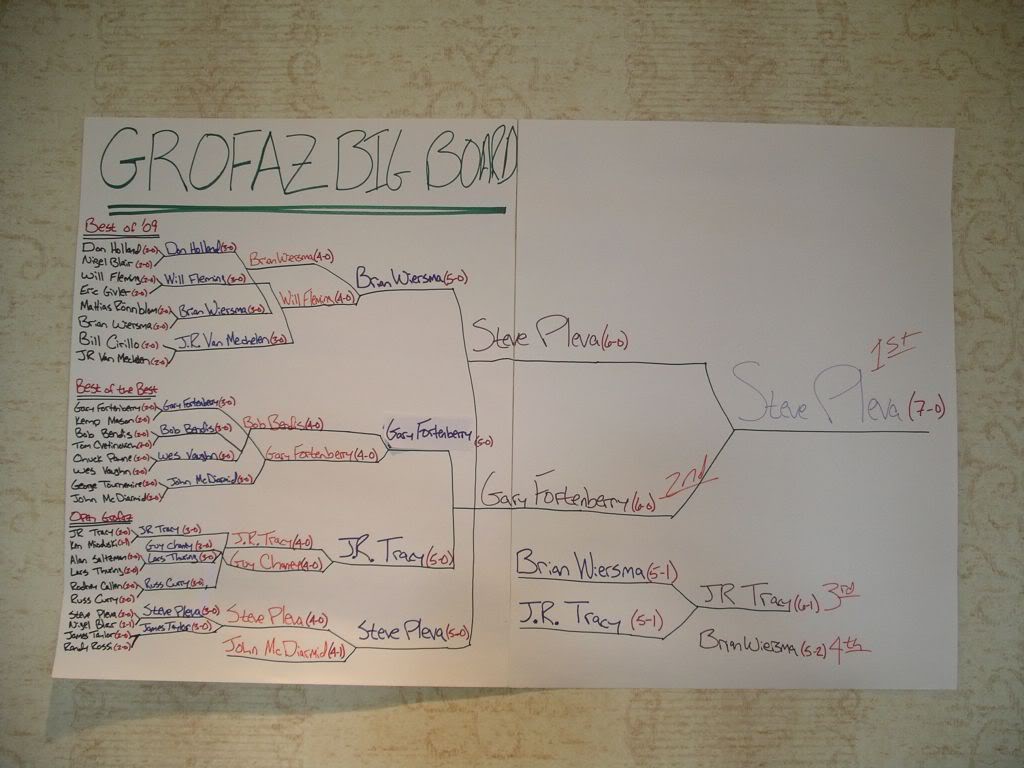 Grofaz Big Board picture courtesy of Klas Malmstrom.


---
Pete Shelling reports:
"The winner of the 'Slaughter at Ponyri' micro-CG team event was the duo of Steve Tinsley and Russ Hall.

Sorry I forgot to take pictures."

Attendee AARs
Gary Fortenberry - Grofaz Runner Up's quick AAR.